The following updates apply to current users of Britannica School, Library, Academic, Escolar/Moderna, and Escola who also use Google Classroom or Clever. Contact your library staff to see if your institution already has access or claim your own Britannica School Free Trial.
Good news for Britannica customers to also use Clever or Google Classroom! The go-to site for education research and two of the top classroom apps now work together even better.
---
Britannica School (US) / Clever integration
Schools who use Clever can now seamlessly access Britannica School US through their app store.
In one step, Clever users can now access Britannica School and are also automatically signed into their personal account.

Individual users will have either a teacher or student role in our system which is sent from Clever. School and district admins will be automatically mapped to the "teacher" role in the system.

Because users are automatically signed into their personal account, Google Classroom rostering should not enabled for accounts also using Clever.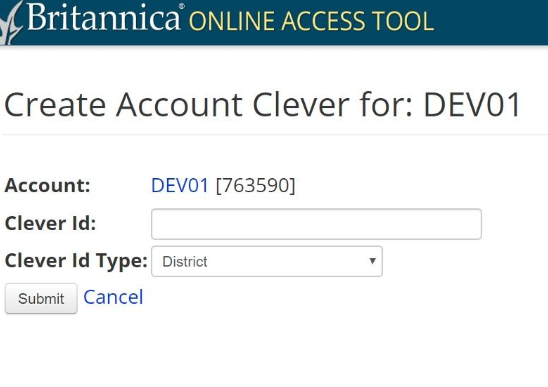 ---
Save to Britannica School content to Google Drive
Save Britannica article content as an editable document in you Google Drive account!
Save to Google Drive is available on all articles and a small subset of inline primary sources. This functionality is not available for other media types at this time.

Once enabled, locate the "Google Drive" option in the "Send To" menu of the Middle and High tiers, and in the right column of the Elementary tier.

Users sign into their Google account and give us permission to access their Google Drive.

Britannica School will create a folder called "Britannica" in your Google Drive account if one doesn't already exist, and add a Google doc with the article content. Article crosslinks are included, however images are not.

The doc will also include the citation in whatever format is selected on the article page.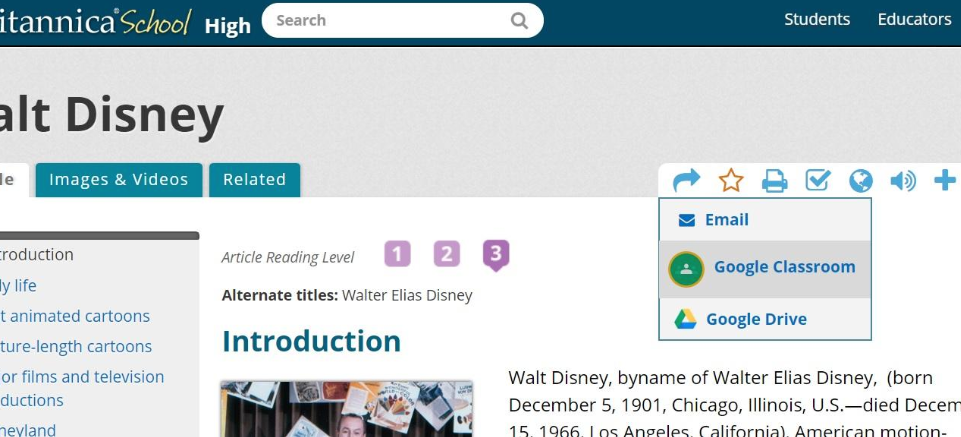 ---
Need help implementing? Contact us to get set up!
Technical Support
We are committed to providing our users with the most responsive support possible. If your institution encounters any technical difficulties, please contact:
800.621.3900 ext.7160
[email protected]
8AM to 5PM CST, Monday through Friday
---
About Clever
Clever wants to improve education through the use of technology. Clever was created by people who knew first hand that schools, teachers, and students could all benefit from the amazing learning software that was available, but key challenges stood in the way of accessing the technology. We eliminate roadblocks for our users by making it easy to find software, automating the setup of new applications, and giving students one-click access to their personalized resources. We give teachers time to teach, help districts be better informed, and make using applications in the classroom effortless. clever.com
About Google Classroom
Classroom is a free suite of productivity tools that includes email, documents, and storage for schools, non-profits, and anyone with a personal Google Account. Classroom makes it easy for learners and instructors to connect—inside and outside of schools. Classroom was designed collaboratively with teachers to help them save time, keep classes organized, and improve communication with students. classroom.google.com
---
Don't have access to Britannica School? Try it for two weeks free! Or CHECK HERE to see if your region is one of our state-wide subscribers. 
Tweet us feedback to @BritannicaLearn.
Learn more about Britannica School with our self-paced video tutorials.