In the US there are currently over 5 million English Language Learners (ELLs) in grades K-12. In 2020, ELLs accounted for more than 10% of all enrolled students in public schools–a number that is expected to grow to 25%–demonstrating just how important it is to provide essential language support to help ELLs access core content.
Educational technology can provide us with the means to support the growing number of ELLs by offering integrated and automated tools to remove language barriers and assist with vocabulary development, to grow their understanding of subject area content, and to expand their digital literacy at the same time.
It is important to remember that there is no typical ELL student: in any one classroom there may be students coming from very different linguistic and cultural backgrounds, as well as different levels of academic preparation. These are the students who are both learning English and learning IN English across a broad range of school subjects. However, when an English learner struggles, it is often difficult to determine whether a student is struggling with the content or with the language. English learners often demonstrate an ability to use basic interpersonal communications skills but need additional support with academic language and content area-specific vocabulary.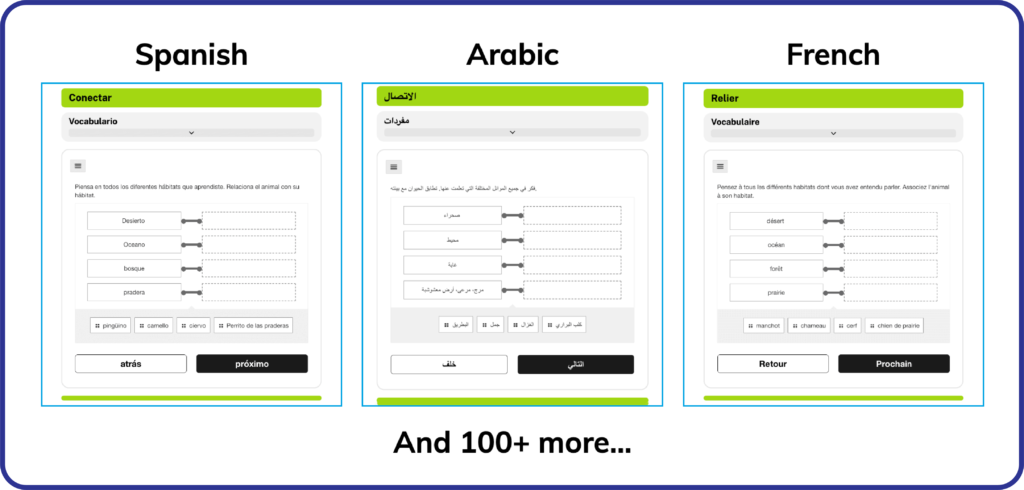 Considering the varying needs of our students is especially important with English learners. Given the additional demands of learning a language alongside rigorous content area objectives, we must ensure we utilize the fullest range of teaching strategies to make the learning experience as accessible as possible for each learner. Britannica's Expedition: Learn! provides engaging experiences to cater to a variety of learning preferences, needs, and styles. Students interact with videos, images, and graphical elements, along with informational text with built-in features to support vocabulary acquisition, comprehension, and fluency. In addition, lesson content is available in 100+ languages, providing direct L1 support as students develop their content area knowledge.

Expanding a student's vocabulary is an important element of ELL instruction. Still, we also want to make sure they are able to develop a context for new words, make connections, and use and apply vocabulary independently. Vocabulary tools, powered by Merriam-Webster, built within Expedition: Learn! support the ongoing reinforcement of newly introduced vocabulary and provide opportunities for scaffolding through translation, read-aloud, and dictionary tools throughout the resource.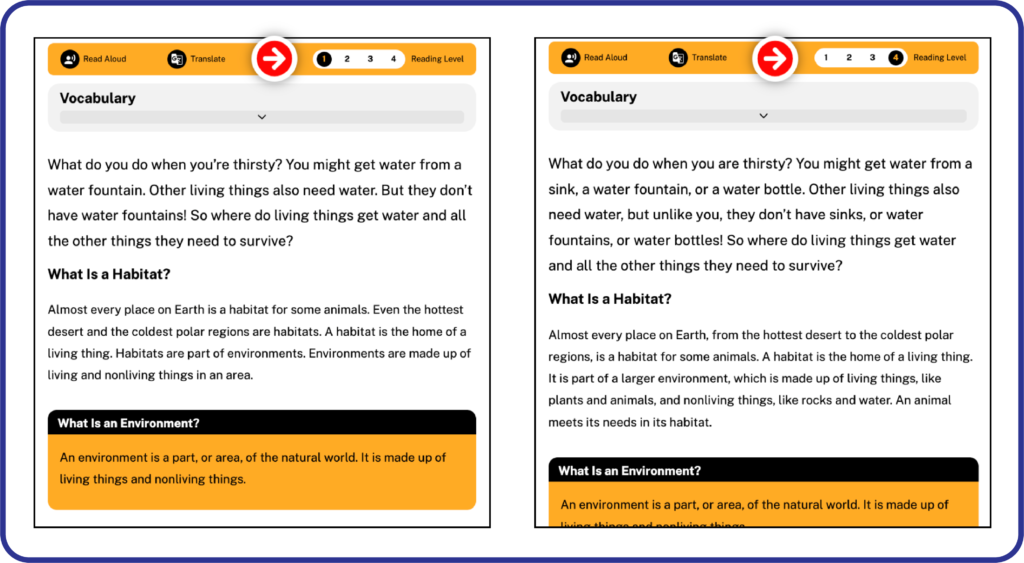 Expedition: Learn! also allows teachers to automatically adjust the reading levels of the content, which can greatly increase student comprehension by narrowing the vocabulary used, providing shorter, more concise sentences, and allowing students to increase reading levels as they feel comfortable, which in turn builds their confidence in reading informational text. The four different reading levels in Expedition: Learn! allow educators to tailor the content to match the appropriate learning level of the student, providing the "just right" mix of support and stretch that students need to accelerate both the content area knowledge and their academic English proficiency.