October Media Literacy Challenge :: Week 5
Are you a superhero of fake-fighting, or do you need a few sessions of media literacy boot camp?
As the United States ramps up for midterm elections, we're giving educators the tools they need to elevate students' news and media literacy skills with the Britannica Digital Learning October Media Literacy Challenge. Every Monday in October, we'll share new resources and activities that support media literacy skills development in students.
---
Round out an action-packed October of media literacy challenges and ramp your school up for NAMLE's fourth-annual Media Literacy Week from November 5-9. Play our media literacy Kahoot! to test what your students have learned about media literacy, tune in to Britannica's Cool Careers Facebook Live series where we'll be interviewing a media producer and iSpeakMedia's founder, and learn about the fun ways your students and their families can engage with daily events during Media Literacy Week.
After a month of media literacy boot camp, we're excited to test your students' knowledge, inspire them about careers in media production and advocacy, and get them ready to to become thoughtful media engagers.
How much media do teens and their parents consume? How prevalent is fake news? How fierce are your fake-fighting skills? Test your media literacy knowledge with Britannica's Media Literacy Kahoots!
Join Britannica's November Cool Careers episode, where we'll interview the award-winning professional media producer and The iSpeakMedia Foundation founder Alicia Haywood. We'll ask her about her 24-year career in media production—including movies, videos, tv shows, and more. Tune in to find out how she got involved in media literacy, what it means to her, and how young people can be more engaged and healthy media consumers.
The fourth-annual Media Literacy Week in the United States is happening November 5-9, 2018 in an effort to raise the visibility of the importance and power of media literacy education and its essential role in education today. Hosted by the National Association for Media Literacy Education, U.S. Media Literacy Week brings together hundreds of partners and media literacy experts for events and activities around the country. Educators, students, and their families can get involved through the events and activity prompts each day of this essential week.
Monday:  "Why Media Literacy Matters" day
In Illinois we are joining a town hall, hosted by State Representative Lisa Hernandez. As IL-HB5096 makes its way through the House, we have an open discussion about the role media plays in our lives + why it's critical for us to enact legislation for adding it to curriculum used in schools throughout Illinois.
Tuesday: #MomsForMediaLiteracyNow Day
On mid-term election day, mothers + mother figures mobilize legislative action that encourages school districts and administrators to support required media literacy K-12 curriculum.
Wednesday: Dads for Media Literacy Day
As moms campaign to make media literacy education required in the children's schools, fathers + father figures help teachers secure the necessary resources to make it possible.
Thursday: Athletes Roundtable
Media Literacy Week is calling on seasoned professional athletes to discuss media's role in their careers, social media activities, and personal brands with words of wisdom for rookies and college athletes headed down a similar path.
#FightTheFake Friday
Commit to keep the fight against fake news and misinformation going all year. Ask yourself before sharing something or posting on social media, "Can I be sure this is true?" Let your friends know when they've spread a falsehood and help them uncover the truth. You can start by watching these tips from Britannica editors: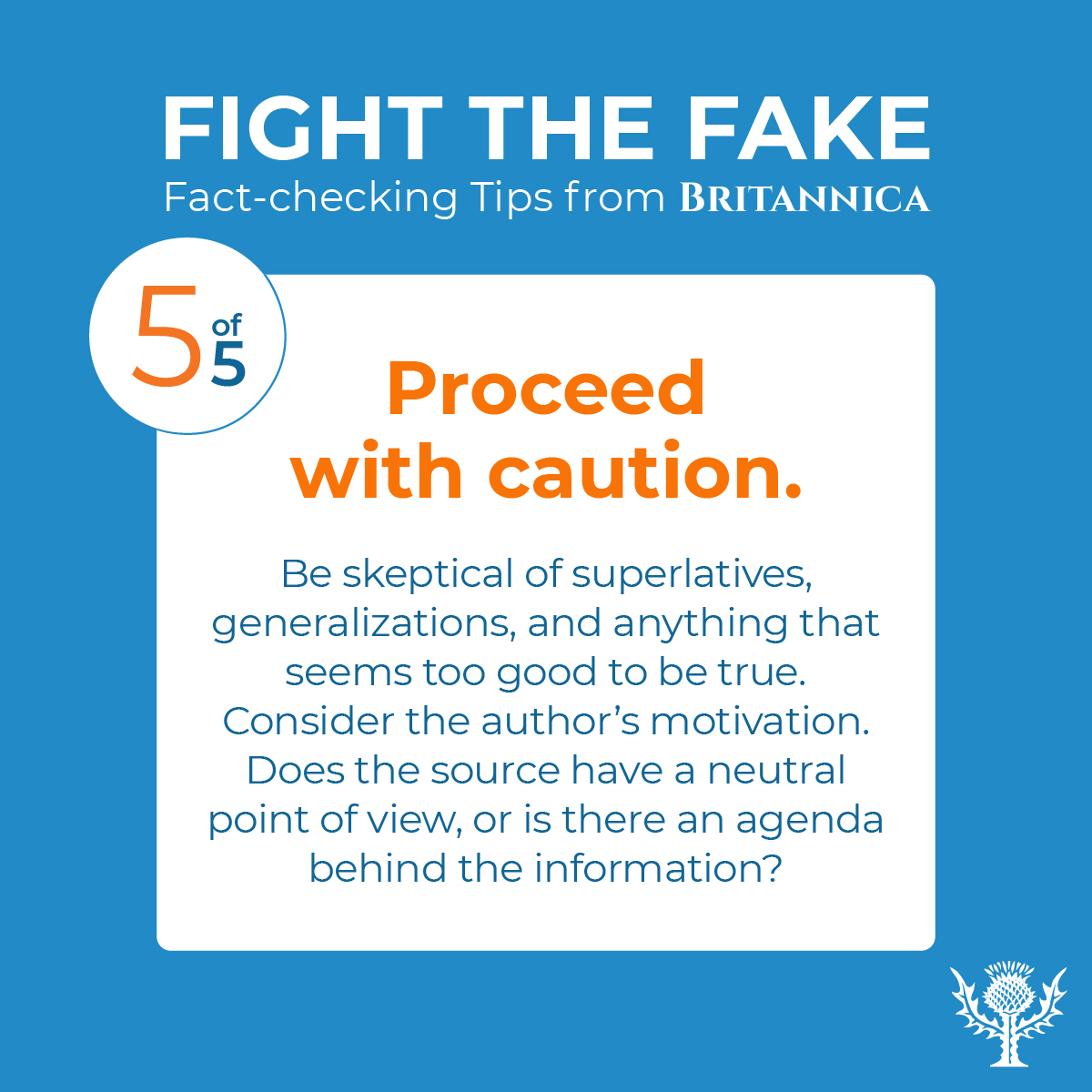 ---
This month-long activity series will help educators lay a strong foundation for media literacy discussions, share must-have resources with students, explore sources and how to evaluate them, and ultimately put student skills to the test with a next-level scavenger hunt. Will you join our quest to help tweens and teens become well-equipped, critical, and thoughtful consumers of media and news?
Join the challenge! Mark your calendars for these activity release dates:
WEEK 5 (October 29) — Fight The Fake: Get ready for Media Literacy Week