Our team created this classroom activity to spark in-depth conversations about the relationship between media and facts and strengthen student understanding of Media Literacy. It can be used with and adapted across grade levels.
What is Media Literacy?
Media refers to any message conveyed through visuals, language, or sound that is mediated by technology. Media literacy, then, is the ability to access, analyze, evaluate and create media in a variety of forms.
Media Literacy is ultimately about preparing and empowering our students to be critical thinkers, effective communicators, and active citizens in today's environments. Inquiry and reflection are at the heart of this critical skill.
---
Sample lesson:
In order to help students develop Media Literacy, they need to practice questioning and critical thinking. This sample lesson is designed to engage all students, particularly those who are challenged by traditional print or lecture formats.
Academic goals include:
Applying students' knowledge about first contact between Europeans and Native Peoples
Understanding the concept of cultural perspectives and different points of view
Practice in providing evidence to back up their conclusions
---
Step 1
Begin the discussion with a look at the 1855 painting "Discovery of the Mississippi by De Soto" by William H. Powell.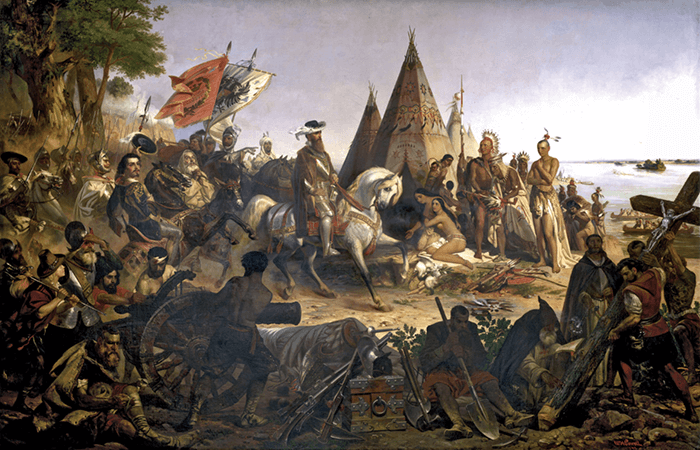 Step 2
1. Ask students to take a closer look at how de Soto is portrayed in the painting. Ask them what adjectives they would use to describe his portrayal.
2. When a student says something like "powerful" ask: "Who agrees?"
3. If most or all students raise their hands, say "Let's go around to hear your evidence that it shows de Soto as powerful."
Continue the discussion with questions that ask students to think more deeply about what's portrayed in the painting.
"What are the messages about first contact between European explorers and Native peoples?"
"What do the flags represent?"
"How are the women portrayed?"
"What message does de Soto's height convey?"
"Where do you see movement in the painting?"
"From whose perspective or point of view is this painting told, the Europeans or the Native People?"
Throughout the lesson, encourage students to present evidence for their observations.
---
For over 250 years, Britannica has been "fighting the fake" with a thorough and meticulous editorial process that includes Subject Editors, Fact Checkers, Information Architects, and more. Learn more about Britannica's comprehensive editorial process