On a sweltering Friday afternoon in late June, ten teens and young adults from Street Level Youth Media visited Britannica HQ in downtown Chicago for a free, half-day media skills workshop.
Britannica experts from several disciplines lead flash sessions on finding credible research sources and fact-checking, image rights and usage, video production, and journalism tips specific to the challenges arts reporting.
The students of Street Level, part of Urban Gateways—a Chicago non-profit that "engages young people in arts experiences to inspire creativity and impact social change"—plan to put these skills to the test in a few ways.
Their West Town digital media center is an after-school multimedia playground where "creative young people ages 13 to 24" can "make anything from a mixtape to a movie with instant access to high-end computers, studio equipment, and cameras."
Most exciting for Chicago teens is the introduction of the Teen Arts Pass (TAP). Launched this summer, Urban Gateways has partnered with venues all over the city to offer their unsold event tickets to TAP cardholders for only five dollars. (Area young people between 13 and 19 can register for a TAP here.)
Street Level participants with a TAP are then encouraged to use the center's resources to document and review the performances and experiences they access with the pass. Follow Street Level on social media to keep up with their work.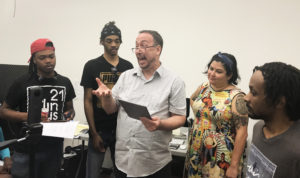 About the workshop
John Cunningham, a Britannica editor and fact-checker for over a decade and the current social media manager for Britannica's consumer properties, kicked off the afternoon with the first session. John laid the foundation for writing and verifying information, giving an insider's look into Britannica's proven methods of research and fact gathering.
Britannica's Manager of Media Acquisition, Kathy Nakamura, (author of that infamous handout) had all-ears-on-deck for her crash course in tracking down photo usage rights.
The visitors felt right at home in Senior Media Technician Kurt Heintz's video studio talking shop. Kurt ran through his gadget recommendations for recording equipment—including some play time with Britannica's new 360° camera—and shared some of his own inspiring arts-centered video creation projects.
Finally, Jessica Krinke, marketing and social media coordinator for Britannica Digital Learning, tapped her past as an arts reporter to review the ways arts journalism is both similar and unique to news journalism and offer tips for standing out as a author.
Britannica's relationship with Street Level has grown in exciting ways over 2018 and we're excited to see how it will evolve next. Stay tuned later in the summer for a Facebook Live check-in with our new friends to see what they've created!
---
See why Chicago Public Schools are Britannica schools: Claim your FREE TRIAL of Britannica School today!
Tweet us feedback to @BritannicaLearn.
Become a Britannica expert in less than an hour! Join us for our live webinars to discover ways to support Common Core and State Standards, locate STEM resources, and find new and exciting ways to promote inquiry in your classroom or library.