Video is the language of choice for today's students.
To empower the next generation of learners to thrive in a media-centric world, harness their existing communication skills by weaving video creation and digital storytelling elements into your curriculum.
Leverage the language your students are fluent in.
Motivated students are engaged students—ready to learn. We know this. As the task of equipping pupils with the right kind of literacy and critical-thinking skills expands by the day, educators must utilize the motivating force of video.
Video intimately connects us with the rest of the world like no other medium. Multimedia creation and storytelling techniques bring students' passions and natural media engagement to the front of the classroom. It molds them into skilled collaborators, communicators, and media-savvy consumers who think critically.
Buzzwords aside for a moment, consider this: kids today are practically born with devices sewn to the palms of their hands. More than ever, the way they document their experiences and interact with their peers is through social media and the cyber world. Their universe is so defined and intertwined with media and digital expression, it's a language they're effortlessly fluent in. Instead of bemoaning this fact, why wouldn't we want to celebrate the new options this opens up for not only teaching them but allowing them to demonstrate their knowledge?
A second grade public school teacher in North Carolina, Courtney Sears writes for Edutopia,
Video taps into the current interests and habits of my students and can easily connect them with authentic audiences. They use video [creation] to document their knowledge, reflect on the learning process, and teach others how to do new things.
The proof is in the stats.
But you don't have to take her word for it—the proof of video's growing influence on knowledge and learning is in the statistics.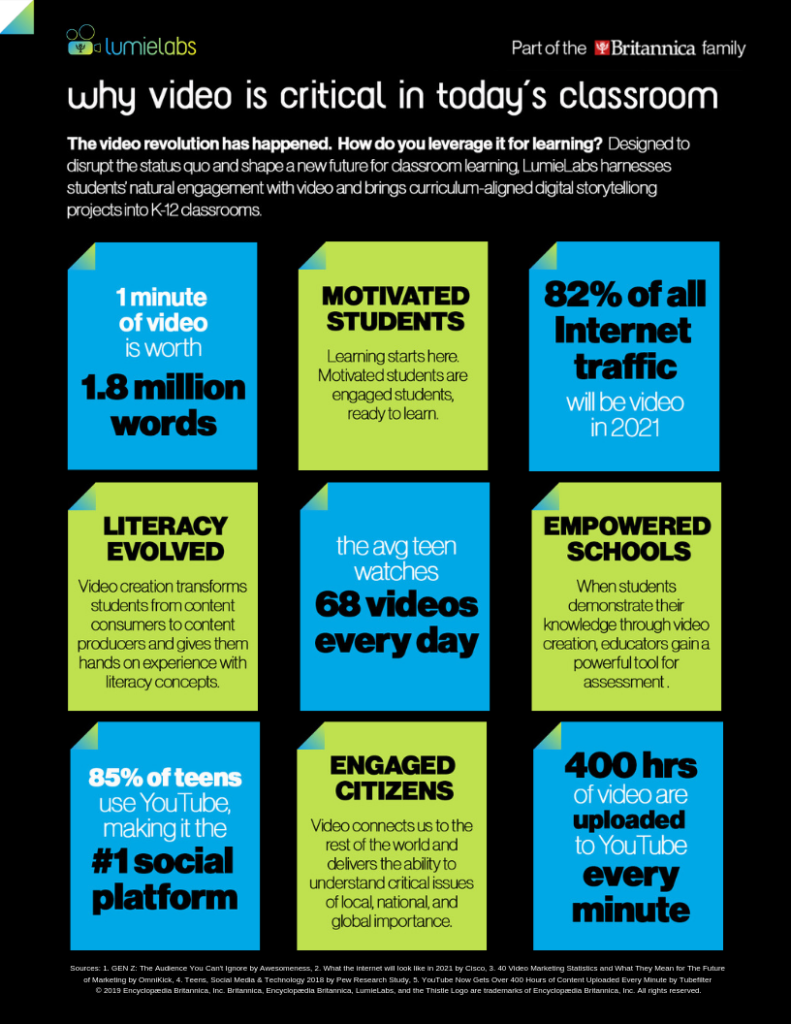 Playing video isn't enough. Students must create.
If you're thinking to yourself at this point, "Great! I'll start playing more videos in class"—not so fast. According to Common Sense Education, by simply pressing play without a specific interaction strategy or lesson plan, you run the risk of flipping on "TV mode" in your students, making them even more passive learners.
So while playing videos along with traditional lesson materials is a good start, to really personalize learning and get the most out of video's engagement potential, students should be creating their own multimodal stories.
What are digital stories and how do they empower learning?
Digital stories are videos that combine footage, images, music, text, and a narrative voice. They are an expressive medium that empowers creativity, reflection, connection, and student voice.
Used in the classroom, digital stories can integrate subject expertise across curriculums with practical skills in areas like storytelling, digital composition, and multimodal literacy.
Digital stories allow students to develop complex skills and deeper knowledge as they develop new understanding through creating media. In addition, when students are empowered to demonstrate their knowledge through video creation, educators gain a powerful assessment tool.
Creating stories enhances how students connect to media and digital literacy concepts by transforming learners from content consumers to content producers. Video creation enables students to understand how media can be used to communicate information or misinformation. It gives them a voice and asks them to consider the responsibility that comes with creating media.
As students develop these media skills that amplify the power of their voice, they are also able to tap into, connect with, and engage more deeply in democracy and in social issues they care about and understand critical issues of local, national, and global importance.
The video revolution has happened. How do you leverage it for learning?
Educators around the world, like you, are turning to LumieLabs to help them shape a new future for classroom learning with the power of video and digital storytelling.
Introduce personalized, curriculum-linked, project-based video lessons to promote creativity, student voice and choice, content mastery, and practical skills that enable students' futures.
Get more information about transforming learning with video in your district.
Insert paragraph here.