Original Sources Now Available to K-12 Schools
June 9, 2016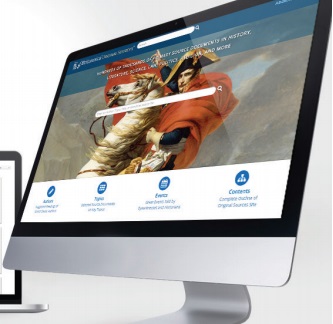 Original Sources provides access to an extensive, continuously growing collection of more than 420,000 works of classic, primary reference sources for reading and research in twelve subject areas: world history, U.S. history, political science, law, literature, science, mathematics, social science, philosophy, religion, language and language arts. Among the historical figures whose words and works are included are: Abraham Lincoln, Emily Dickinson, Martin Luther King, Jr., Plato, Jane Austen, Sun Tzu, Virginia Woolf, and Winston Churchill.
Previously available only to colleges and universities, the product is now available to K-12 schools. The need for independent research, information literacy and command of non-fiction sources is increasing at all grade levels.
Like all Britannica websites, the new Original Resources embodies "responsive design," which means the site recognizes the device that's accessing it and "responds" by displaying optimally, whether on a PC, laptop, tablet or smart phone. As a result, student and teacher researchers can use it anywhere.
There is nothing else like Original Sources, where you will find original documents and personal accounts of humankind's historical development, including many of the greatest discoveries and achievements in the words of the actual authors, discoverers, and game-changers throughout history.
—Michael Ross, Senior Vice President, Britannica Digital Learning
"It's a gateway to our collective past and the important milestones that have shaped our civilization."
Free trials are available to schools, districts and consortiums. Interested educators can call 1-800-621-3900 or go to http://britannicaeducation.com/ for more information.
About Britannica Digital Learning
Britannica Digital Learning (BDL) provides reliable, high-quality solutions to strengthen student achievement and educators' ability to teach to best practice. BDL experts produce curriculum-aligned resources for all ages from elementary school to college that make creative and purposeful use of technologies widely used in schools today. Products include: Britannica School, Britannica Academic, Pathways: Science, ImageQuest, and e-books. BDL is a division of Encyclopædia Britannica, Inc., with headquarters in Chicago.
For all press inquiries. please contact: [email protected]