The Final Book Of The Year: Britannica's 250th Anniversary Collector's Edition
October 11, 2017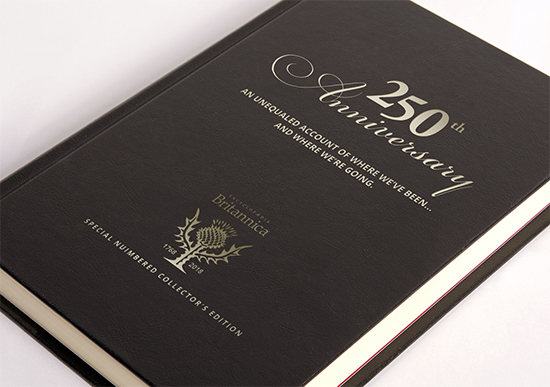 Britannica's 250th Anniversary Collector's Edition
We are excited to announce a publication that you will not want to miss!
The 2018 edition of Britannica Book of the Year will be the last yearbook to be published—after being continuously published annually since 1938—and is being released to commemorate Britannica's 250th anniversary.
 About the Collector's Edition
This 2018 Collector's Edition will be unique in its presentation and content, and will showcase the articles and writing that have made Britannica one of the most trusted and reliable sources of information for two and half centuries. It will present an unequaled account of where we've been and where we're going.
The volume is divided into three parts.
Part I—"Evolving Knowledge" —traces how knowledge has changed, expanded, and become more reliable in the past 250 years. Only Britannica, with its storied publishing history that began in 1768, can show this evolution.
Part II—"Classic Voices" —highlights the words of the great men and women, past and present, who not only shaped our world but also wrote for Britannica, such as: Albert Einstein, Marie Curie, Sigmund Freud, Alfred Hitchcock, Jack Kennedy, Archbishop Desmond Tutu, Pulitzer Prize-winning historian Joseph Ellis, and scientist Neil deGrasse Tyson.
Part III—"Issues of Today, Visions of Tomorrow"—features newly commissioned essays from leaders from around the world, including film director Martin Scorsese; Harvard professors Henry Louis Gates, Jr., and E.O. Wilson; the Archbishop of Canterbury; former world chess champion Garry Kasparov; and former U.S. Secretaries of State James Baker and Madeleine Albright.
Get More Information
Please see the brochure for details on the content of this special publication! 
To reserve your special numbered copies of this historic edition from Britannica—and to guarantee that you receive them as soon as they're published in early 2018—please order by November 10, 2017.
About Britannica Digital Learning
Britannica Digital Learning (BDL) provides reliable, high-quality solutions to strengthen student achievement and educators' ability to teach to best practice. BDL experts produce curriculum-aligned resources for all ages from elementary school to college that make creative and purposeful use of technologies widely used in schools today. Products include: LaunchPacks: Science, LaunchPacks: Social Studies, Britannica School, Britannica Academic, Original Sources, and ImageQuest. BDL is a division of Encyclopædia Britannica, Inc., with headquarters in Chicago.
For all press inquiries, please contact: [email protected].