New Social Studies Classroom Solution
November 15, 2016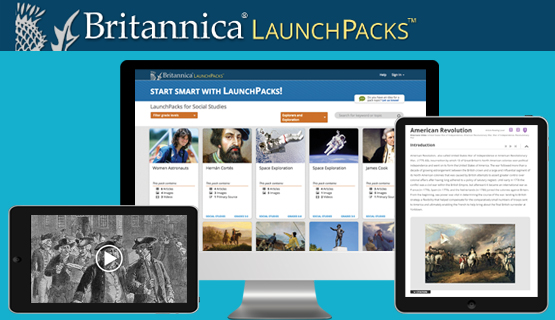 Britannica social studies classroom solution saves teachers time and engages students
Teachers can save time and make social studies classroom lessons more productive with LaunchPacks™: Social Studies, a new K-12 digital solution from Britannica Digital Learning. Designed for social studies classroom use and to make lesson planning more efficient, it helps teachers engage students with ready-to-use content that covers the entire curriculum.
LaunchPacks includes more than 1,600 current, trustworthy and highly relevant content sets, from American Folk Heroes to World War II, offering a full range of articles, images, videos and primary sources presented in an engaging interface and optimized for any size device. Teachers will spend less time searching for resources by having what they need in one place.
Several features of the product help to improve social studies teaching and learning:
– Content is aligned with district curricula and state standards, skills and assessments;
– Material is highly reliable, up to date, age appropriate and prepared by Britannica editors;
– Most articles are available at three different levels, so teachers can easily differentiate reading instruction for students.
– Teachers can choose what works best for their students and curriculum focus. They can customize LaunchPacks by adding or removing content, appending notes or uploading their own content to share with others.
– LaunchPacks covers the accomplishments and contributions of a broad and diverse array of social and ethnic groups, races and genders, with stories, articles, references and timelines that feature events from all over the world.
– Content packs are designed with interrelated elements—articles, images, videos, documents—to provide a rich context and the full story of events.
Michael Ross, general manager of Britannica Digital Learning and a senior vice president at Encyclopaedia Britannica, Inc. said:
Teachers tell us that finding relevant, reliable material for lessons is enormously time consuming. LaunchPacks: Social Studies has what they need all in one place, so it will save them time, with content their students will find compelling, accessible and diverse.
LaunchPacks has already received several district-wide adoptions around the country. More information is available at BritannicaLearn.com and 1-800-621-3900.
About Britannica Digital Learning
Britannica Digital Learning (BDL) provides reliable, high-quality solutions to strengthen student achievement and educators' ability to teach to best practice. BDL experts produce curriculum-aligned resources for all ages from elementary school to college that make creative and purposeful use of technologies widely used in schools today. Products include: Britannica School, Britannica Academic, Pathways: Science, ImageQuest, and Britannica E-books. BDL is a division of Encyclopædia Britannica, Inc., with headquarters in Chicago.
For all press inquiries, please contact: [email protected]