The gay rights movement is a civil rights movement that advocates equal rights for the lesbian, gay, bisexual, and transgender (LGBT) community. (The initials are also often rendered as LGBTQ, with the "Q" standing for "queer" or "questioning.") The movement calls for an end to discrimination against LGBT people in employment, housing, public accommodations, and other areas of life.
The modern era of the gay rights movement in the United States began in the 1960s. On June 28, 1969, the police raided the Stonewall Inn, a gay bar in New York City. The police arrested and harassed the bar's employees and some of its customers. That set off a riot among people outside the bar. Nearly 400 people joined the riot, which lasted 45 minutes and resumed on succeeding nights. Many historians view the uprising as a spontaneous protest against the perpetual harassment and discrimination suffered by the LGBT community in the 1960s.
The Stonewall riots sparked greater political activism. Many people began to work for equal rights for the LGBT community. On the first anniversary of the riots, several hundred demonstrators marched past the Stonewall Inn. Many people consider that to have been the first Gay Pride march. Today, Gay Pride is observed in U.S. cities each year in June with parades and other celebrations.
Several other countries also celebrate Gay Pride, although not always in June. At first, Pride demonstrations focused only on participants being proud to declare their identity. Members of the LGBT community later began to use the events to call for equal rights. Click through the links below to learn more about the gay rights movement's history and to sample Britannica's coverage of the people, ideas, and accomplishments we honor this month.
To help teach students about Pride Month and the gay rights movement, Britannica's Curriculum Expert Team has put together a few activities and resources.
National and International Organizations
Explore these articles in Britannica School that provide students with information about organizations that represent the interests of the lesbian, gay, bisexual, transgender, and queer (LGBTQ) community.
Integrating Media Literacy into Pride Month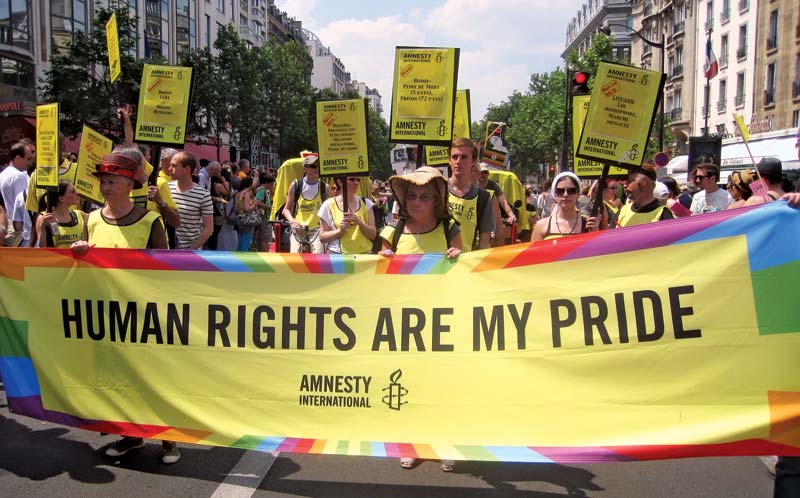 Use these questions to encourage students to use a critical lens when analyzing the media below:
What do you wonder about this image?

What is being communicated in this image? Provide evidence.
Does anything in the image surprise you? Explain.

What is the motivation behind this image?
Whose perspective does the image represent?
Pride Month Resource Packs
Take advantage of Britannica School with these curated resource packs, that are filled with articles about global issues.
Learning for Justice's best practices guide to creating an LGBT-inclusive school climate. Dig deeper with the following activity: 
We hope you and your students enjoy these activities and resources, as you continue your journey of incorporating culture and history into your curriculum!  Contact us at [email protected].
Looking for access information
about a Britannica product?