Prestigious International Awards Program Recognizes Outstanding Educational Technology Products and Companies
CHICAGO – June 8, 2023 – Britannica Education, a global leader in reliable, award-winning reference and curriculum solutions, today announced that Expedition: Learn! has been selected as winner of the "Digital Learning Platform of the Year" award in the 5th annual EdTech Breakthrough Awards program conducted by EdTech Breakthrough, a leading market intelligence organization that recognizes the top companies and solutions in the global educational technology market.
Expedition: Learn! is a digital learning platform  that takes students through interactive, standards-aligned lessons with built-in, ready-to-use differentiated instruction and assessments. Lesson content, available at four different Lexiled reading levels, helps students develop critical thinking, problem-solving, media literacy, and communication skills.
Educators in grades 3 through 8 can easily assign lessons and monitor student progress with LMS integration, rostering capabilities, and comprehensive cross-curricular reporting tools. Teachers can also quickly identify areas where learners need additional support and adjust instruction to help achieve success.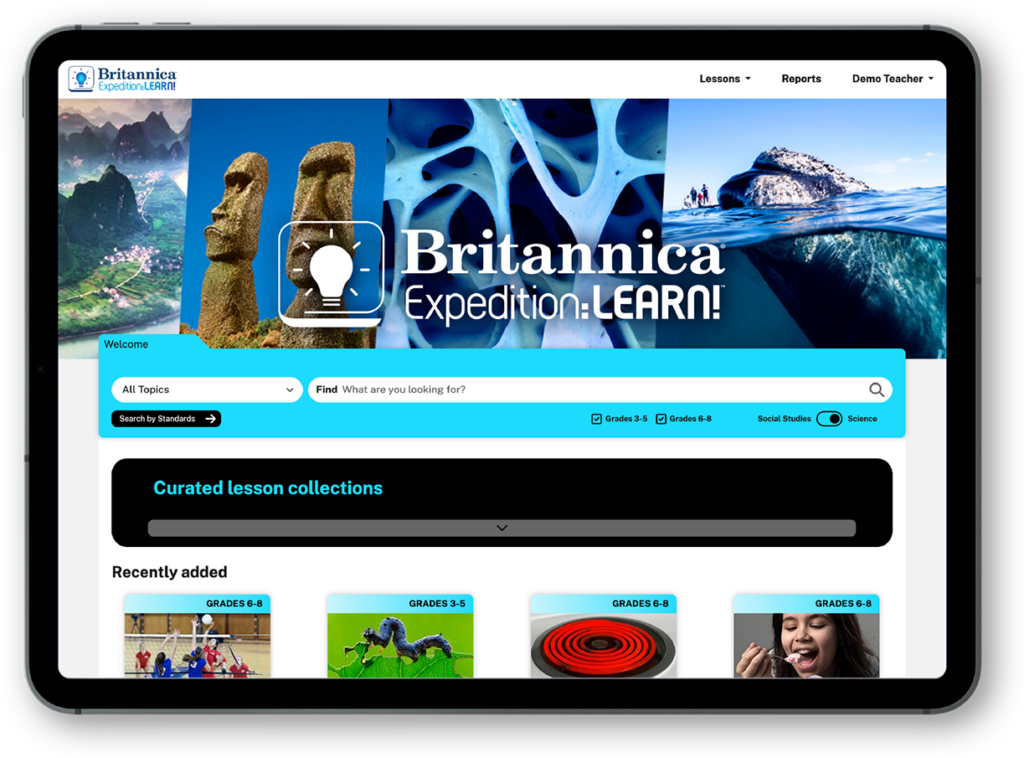 "Expanding a student's vocabulary, and supporting their journey in science and social studies is essential to student improvement and success. However, there are so many varying needs with students, and everyone of them is individualized. A full range of teaching strategies should be available to make the learning experience as accessible as possible for each unique learner," said James Johnson, managing director, EdTech Breakthrough. "Britannica's Expedition: Learn! has earned our 'Digital Learning Platform of the Year' award for delivering on this need, providing engaging, breakthrough learning experiences to cater to a variety of learning preferences, needs, and styles and helps students develop a deep understanding of core concepts."
The mission of the EdTech Breakthrough Awards is to honor excellence and recognize the innovation, hard work and success in a range of educational technology categories, including Student Engagement, School Administration, Adaptive Learning, STEM Education, Remote Learning, Career Preparation and many more. This year's program attracted more than 2,400 nominations from over 16 different countries throughout the world.
Key features of the Expedition: Learn platform include standards-aligned science and social studies digital lessons that meet state and national standards as well as the ability to personalize instruction for diverse learners with differentiated reading levels, ELA skills assessments, and resources in over 100 languages. Interest-grabbing videos and media also start each lesson, sparking students' interest in the topic.
About Britannica Education
Our mission is to inspire curiosity and the joy of learning and to help teachers, students and lifelong learners explore their world more deeply. We partner with educators, school districts, ministries, and media companies all around the world. Trusted in over 83 countries, translated into over 100 languages, and used by more than 150 million students, we provide effective, enriching, and innovative tools, resources, and ideas to meet evolving teaching and learning needs. Britannica Education is a division of the Britannica Group, which is headquartered in Chicago.
About EdTech Breakthrough
Part of Tech Breakthrough, a leading market intelligence and recognition platform for global technology innovation and leadership, the EdTech Breakthrough Awards program is devoted to honoring excellence in educational technology products, companies and people. The EdTech Breakthrough Awards provide a platform for public recognition around the achievements of breakthrough educational technology in categories including e-learning, student engagement, school administration, career preparation, language learning, STEM and more. For more information, visit EdTechBreakthrough.com.