Diversity, Equity, and Inclusion
Training, Content, and Resources
Diversity, equity, and inclusion are fundamental to education. Learn about Britannica's programs that support culturally responsive instruction, accessibility, and professional development for educators. 
Professional Learning Cohorts
Want to build more equity into your teaching? Consider Britannica's new online professional learning cohort.
Global pandemic. Racial injustice. Supercharged politics. It's no wonder many educators struggle to address current events and issues related to diversity with their students. The need for culturally responsive teaching has never been greater. 
Britannica Education's Professional Learning Cohort: Culturally Responsive Instruction in a Blended Learning Environment supports K-12 teachers and leaders who want more equity and inclusivity in their schools.
New cohort sessions begin on the 4th Tuesday of each month.
Culturally Responsive Content
LaunchPacks Learning Journeys: African American Experience Bundles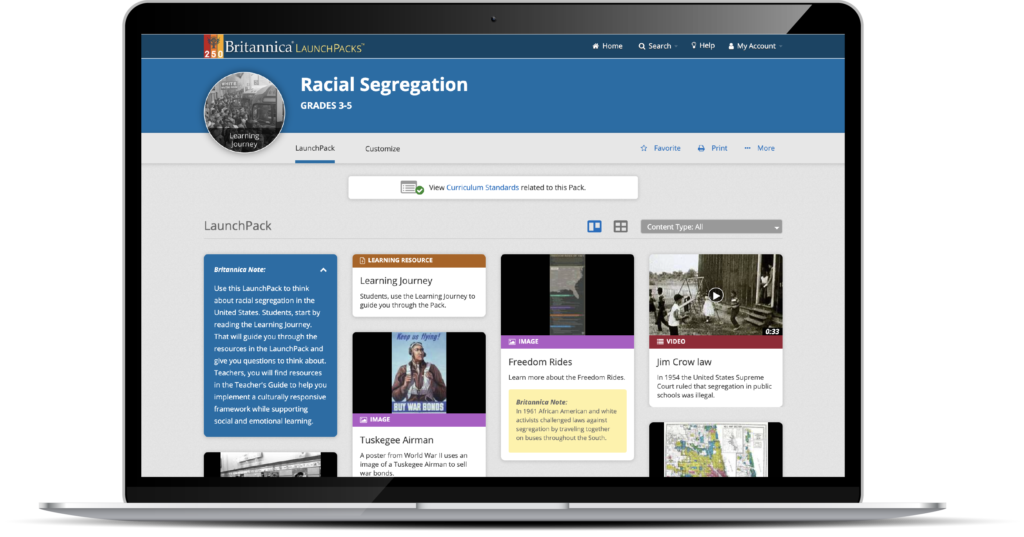 To support schools with their Diversity, Equity, and Inclusion initiatives, Britannica has created Fighting For Equality: African American Experience.
The 20 inclusive multimedia content sets provide teachers with thoughtfully selected curriculum resources and a clear path to engage students in difficult topics, while enabling students to explore under-told history, make deeper connections to systemic issues, and build social-emotional skills such as empathy and awareness.
Let's connect! Schedule a 1:1 conversation with a Britannica representative.
Britannica Group DEI Statement