Expand literacy through hip-hop with a 1-hour playlist that's squeaky clean for classroom listening.
Newbery honoree Jason Reynolds said in his interview with The Daily Show's Trevor Noah in January 2018, "Your relationship with words determines your life." In the interview, Reynolds explored themes of hip-hop, literature, literacy, and the importance of building relationships with young adults.
Connections to literacy come in many forms, such as hip-hop culture, rap lyrics, spoken word, poetry, and other content that covers issues currently impacting students. These formats and themes are powerful pathways toward engaging with the written and spoken word, as well as self-exploration and expression. They can act as tools for the next generation to incite change in their own lives, communities, and the world.
Reynolds said:
We should teach comparative literature, where you take Queen Latifah's 'Ladies First' and Maya Angelou's 'Phenomenal Woman' and you show young people that nothing is new. This is all a continuum. We are working in tradition. Then they can start to see their place in the things they're reading. So if you read [Long Way Down], all they're gonna see is themselves. So of course it makes more sense. It's an entryway. It doesn't mean I want them to only read my books. It's just the springboard so that they then build relationships not just with literature, but with literacy.
Rap lyricists have expanded our relationship with words since hip-hop's inception in the 1970s. Modern artists like Queen Latifah and GZA use a wider vocabulary than classic authors like Shakespeare and Herman Melville. Adding them into poetry and language arts curricula blends old and new, classic and alternative.
Inspire students to learn through hip-hop
During an interview between Neil deGrasse Tyson and GZA of Wu-Tang Clan, Tyson reads a comment from a young adult named Michael who Wu-Tang influenced.
"As a teenager, it was not my school, but it was Wu-Tang who taught me the idea of knowledge, wisdom, and understanding. It was because of this idea that I went into physics. I'm now a high school science teacher with a passion for sharing my love of science and improving science literacy."
Most people think of hip-hop as only rap and rhyming. However, hip-hop is a cultural movement that also includes graffiti painting, deejaying, and b-boying. (B-boying, also called breakdancing, is a virile body language that philosopher Cornel West describes as "postural semantics.") Additionally, DJ and Rapper Afrika Bambaataa insists that "knowledge of self" is the official fifth element of hip-hop culture.
While rap music is complex in both content and context, some songs are not suitable for the classroom. However, there are many songs that are PG, poignant, poetic, and applicable to classroom lessons. We've put together a hip-hop playlist of songs that are lyrically clean with empowering, uplifting, and thoughtful messages. Get the playlist and read about each song below.
"Alphabets" (2008), by GZA
Want to expand your students' vocab? Introduce them to GZA. An analysis of his lyrics found that he had the second-largest vocabulary in hip-hop music. That's more than Shakespeare and Herman Melville (Moby Dick). GZA is an American rapper and one of the founding members of the hip-hop group Wu-Tang Clan. According to 10 Greatest Rappers of All Time, "The GZA's delivery was smooth, yet authoritative, as he often dismissed the typical rap storylines of nightclubs, provocative women, and tough-talk gun-play in favor of science and wide-ranging philosophies." GZA's song "Alphabets" includes lyrics that teachers can get behind. Such as, "Nothing but the driven raps written in my notebook / Inspired by the cap and the gown, that's on the coat hook."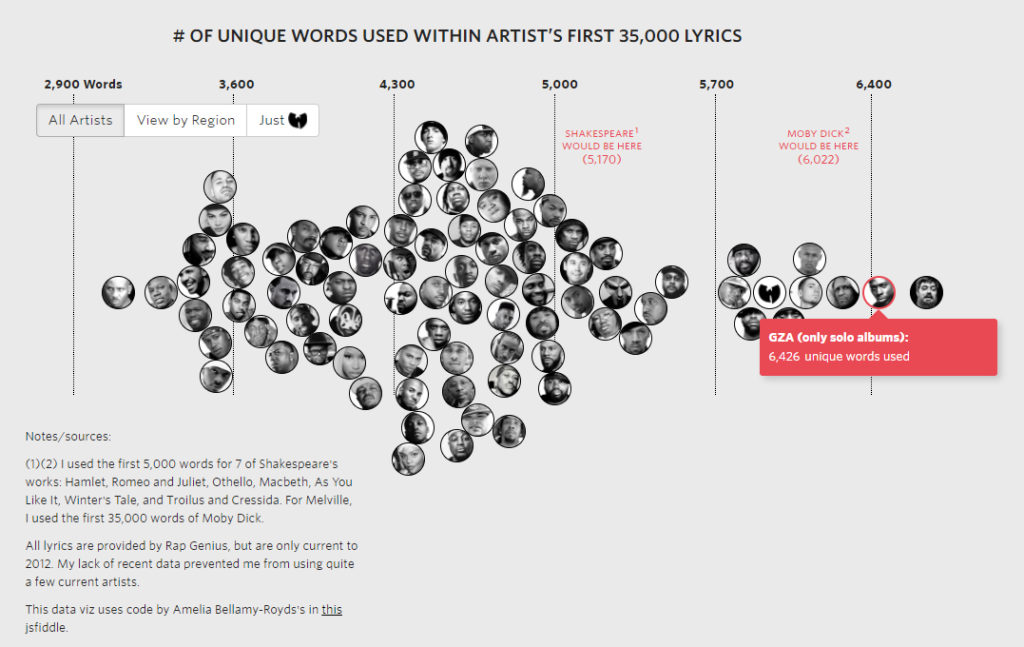 "Pain" (2016), by De La Soul
Three high school friends from Amityville, New York formed the American hip-hop group De La Soul in 1988. The group's debut album, 3 Feet High and Rising (1989), was one of the most influential albums in hip-hop history. It offers densely layered samples, socially conscious lyrics, and quirky interlude skits. "Pain" features Snoop Dogg, among others, and offers squeaky clean rhymes about coping with and persevering through pain. "They claim blue skies with white clouds, steady drifting / When pain come to get ya, it hit ya like flu / Better times will pick ya, / do what you gotta do."
"Ham 'n' Eggs" (1990), by A Tribe Called Quest
Phife Dawg, Q-Tip, Ali Shaheed Muhammad, and Jarobi White formed the hip-hop collective A Tribe Called Quest in 1985. John Bush of AllMusic called them "the most intelligent, artistic rap group during the 1990s." This song promotes eating healthy, while celebrating soul food, and includes such lyrics as "Asparagus tips look yummy, yummy, yummy / candied yams inside my tummy / a collage of good eats, some snacks or nice treats / applesauce and some nice red beets."
"Can I Kick It?" (1989), by A Tribe Called Quest
"Can I Kick It?" is a lighthearted hip-hop classic. The song includes a sample from "Walk on the Wild Side" by Lou Reed, among others. The opening verse includes the rhyme "Come and spread your arms if you really need a hug / Afrocentric living is a big shrug / A life filled with that's what I love / A lower plateau is what we're above." A Tribe Called Quest was a hip-hop pioneer. Rolling Stone said "Their body of work was like nothing hip-hop had seen before, or has since…Together, Q-Tip, Phife Dawg, Jarobi, and Ali Shaheed Muhammad cemented the link between jazz's grooves and hip-hop's future funk."
"Ladies First" (2008), by Queen Latifah
Queen Latifah sets the record straight on female rappers in this song. She says, "Some think that we can't flow / Stereotypes, they got to go." In the 1980s, Queen Latifah launched a wave of female rappers and helped redefine the traditionally male genre. In 1988, she released her first single, "Wrath of My Madness," followed by her debut album, All Hail the Queen, in 1989. Diverse styles and feminist themes propelled both the single and the album.
"I Know You Got Soul" (1987), by Eric B. and Rakim
During rap's classical period (1979-93), people regarded DJ Eric B. and MC Rakim as one of the most talented combos around. Rakim raps, "It's a four-letter word when it's heard, it control your body to dance…" That four-letter word is soul.
"Everything Is Everything" (1998), by Lauryn Hill
On this track, Lauryn Hill sings "I wrote these words for everyone who struggles in their youth / Who won't accept deception, instead of what is truth." Hill's sound, often categorized as "neo-soul," bridges hip-hop and mainstream popular music. This is a song for youth on injustice, struggle, and hope for change. Fun fact: Teenage John Legend made his first commercial appearance on this song, playing the piano.
"Give Thanks" (2008), by Raashan Ahmad
Raashan Ahmad, an MC solo artist and the frontman of the five-member hip-hop group Crown City Rockers, combines conscious lyrics with live instrumentals to make hip-hop songs that empower and uplift. His song "Give Thanks" includes this chorus: "Give thanks when the sky turn red and the day turn dusk and what's said is said / Give thanks for the pain and the hardship. It keep me focused and ready on target / Give thanks when the walls close in. I get love from my fam and friends / Give thanks, put my hand over my heart. And let you know it's from the very best part."
"Tennessee" (1992), by Arrested Development
Arrested Development, founded by MC Speech and DJ Headliner, wrote songs about consciousness, joy, and spirituality. Rolling Stone said, "The southern rap collective sampled Sly and the Family Stone, Prince and Buddy Guy on their breakthrough album 3 Years, 5 Months & 2 Days in the Life of . . ., writing lyrics that were socially conscious and completely clean. It was the kind of rap your parents could appreciate." In "Tennessee," Speech reminisces about the South. He raps, "Now I see the importance of history / Why people be in the mess that they be."
"Monie in the Middle" (1990), by Monie Love
Monie Love was one of the first BritHop artists to be distributed worldwide by a major record label. Her song, "Monie in the Middle," proclaims her right to make her own choices in love and relationships. In the song, she makes up her mind about what she wants and tells an unwanted suitor to back off. She says, "I made my decision, precisely, precision is a must / For me to solve another riddle / Step into a brand-new rhythm, ism schisms / Nope, I'm not with 'em."
"Bridging the Gap" (2004), by Nas
The song "Bridging the Gap" makes the connection between hip-hop and jazz. The theme of the song is summed up in the lyrics, "bridging The Gap from the blues, to jazz, to rap / The history of music on this track." American rapper and songwriter Nas became a dominant voice in 1990s East Coast hip-hop. He drew widespread acclaim for his poetic narration of hard-edged inner-city life. "Bridging the Gap" features a guest appearance by his father, the jazz cornetist Olu Dara.
"The Old Prince Still Lives at Home" (2007), by Shad
Shad, a Canadian rapper born in Kenya, goes to the next level about being frugal in this song, but it's ultimately for a larger goal. His song ends with the lyrics "Keep carving a niche, I'm started in a jar for the wee / Little Shaddies still to come for their college degree / Yo I figure starting early on the market is key / I plan on having smart daughters all Harvard M.D." TAP Magazine said, "Shad uses his success to visit and talk to high school kids, raise awareness on social issues that would otherwise be ignored, and, most importantly, he continues to proudly take his role as a role model for African migrant youths in Canada very seriously."
"Television, the Drug of the Nation" (1992), by The Disposable Heroes of Hiphoprisy
We can all get behind the theme of not watching TV. In this song Michael Franti raps, "TV is the reason / why less than 10 percent of our nation reads books daily / why most people think / Central America means Kansas, Socialism means un-American, and Apartheid is a new headache remedy."
"First in Flight" (2002), by Blackalicious
Rapper Gift of Gab and DJ/producer Chief Xcel make up the duo Blackalicious. The duo is known for their complex rhymes and what hip-hoppers call the "positive tip." (Positive tip: lyrics that are uplifting and conscious.) Here, Gift of Gab raps, "No need to force the progression, just ride the wind / You'll know the answer to the Where and Why and When." On this track, Gil Scott-Heron, whose spoken-word anthem "The Revolution Will Not Be Televised" lacerated the complacency of white middle-class America in 1970, makes an appearance. Teachers can share his influential impact on hip-hop through poetry.
"Tobacco Road" (2002), by Common Market
"Music in and of itself is very spiritual in nature which means that it's always been a tool that advocates, this connection through humanity. A commonality. Music has always been that. Entire cultures have been denied the privilege of music because of its power. We talk about book burning, but people have been denied access to music," said MC RA Scion in an interview with Seeds Entertainment. Scion is the lyricist in the Seattle hip-hop duo Common Market, which also includes DJ/producer Sabzi. It is another hip-hop group that takes a spiritual approach to its message and explores deep, sometimes hard, topics. In "Tobacco Road," Scion confronts the suicide of family members, the loss of friends, and the seasonal nature of life experiences. "Tobacco Road" is a story of grief, growth, and the meaning of "home." It's a song for transitions and reflection.