Explore what we discovered for March!
With over three million images and counting, diving in to discover all there is in ImageQuest sure is an adventure.
Good thing the Britannica pros are here to guide you through the best of the quest! This month, we celebrate moments in the lives of women throughout history.
Don't have ImageQuest access?
---
The women of one Selma, Alabama family sit for a portrait—all six generations of them—in 1893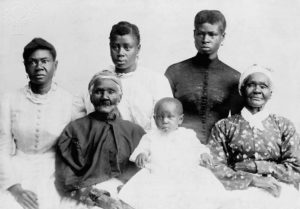 How amazing is it to have this many generations in one photograph today, let alone 125 years ago? What do you think the world looked like for the older women compared to the future their descendants saw?
Unfortunately for us, the names of the women in this stunning portrait from the Library of Congress have been lost to history.
Women vote for the first time after the passage of the 19th Amendment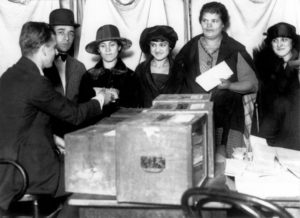 "Finally, on August 26, 1920, after 72 years of American women's steadily growing demand for their political rights, the right to vote was extended to women in the U.S. Constitution."
Look at the faces of the women in this photo. How do you think they feel about earning this right after all that time?
A shocking crime: Women in Chicago being arrested for wearing one-piece bathing suits, without the required leg coverings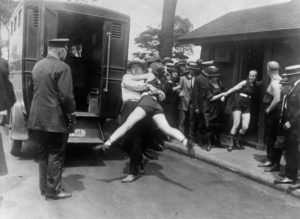 Are these people dancing? Look closely again at this picture from 1920 and you'll see the man in the front is trying to get the woman into the police van while the woman toward the back is trying to grip the door frame.
Why do you think the people of this time thought the women should go to jail? How does what they're wearing compare to how people dress at the beach today?
Women fire fighters directing a hose after the Japanese attack on Pearl Harbor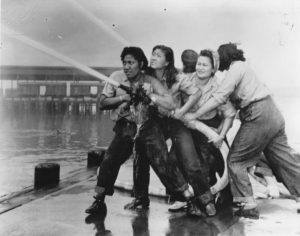 IMAGEQUEST: Three Lions / Hulton Archive Editorial / Getty Images / Universal Images Group
By World War II in the 1940s, it was more common than in previous eras for women to be doing jobs typically done by men, especially as the war went on and more and more men became soldiers. What other jobs did women begin to do more often during the second world war?
Protesters march at a 1971
wome
n's
liberation rally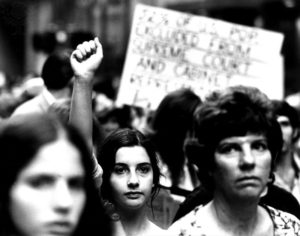 During the 1970s, women were inspired by the civil rights movement's model of African Americans who banded together to question long-standing discriminations and widespread racist beliefs. They mounted organized protests against their own subordination as women in a movement that came to be known as women's liberation.
---
Don't have access to ImageQuest? Get a free trial and explore millions of rights-cleared images from one trusted site. Or CHECK HERE to see if your region is one of our state-wide subscribers.
Tweet us feedback to @BritannicaLearn.
Become a Britannica expert in less than an hour! Join us for our live webinars to discover ways to support Common Core and State Standards, locate STEM resources, and find new and exciting ways to promote inquiry in your classroom or library.